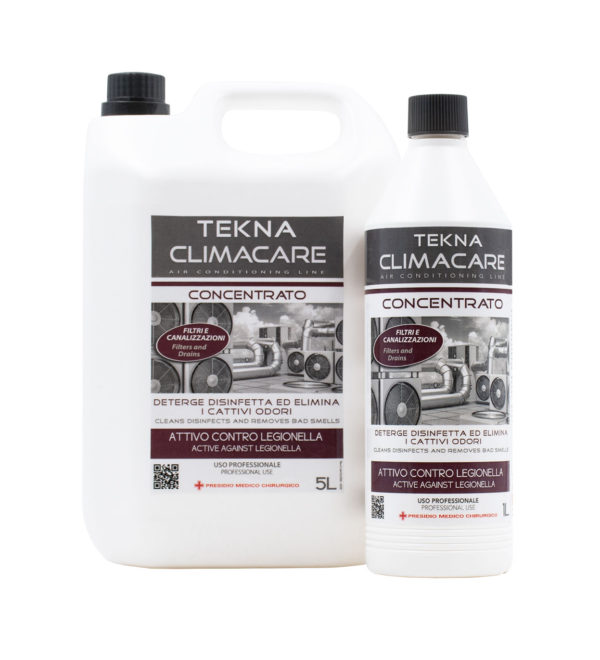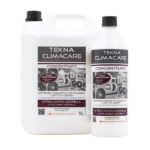 Tekna Climacare Concentrato
Concentrated cleanser disinfectant active on Legionella.
Climacare Concentrato is registered by the Italian Ministry of Health.
CLIMACARE CONCENTRATO is a disinfectant active on Legionella, bacteria, fungi, yeasts and molds.
The highly concentrated formula is specially formulated for the disinfection and cleansing of air conditioners, filters, relative ducts and hard surfaces in general.
It used diluted does not require rinsing and it does not leave residues.
It is not flammable. It does not stain.
Composition
Instructions for Use
Packaging
Product ID
How to Storage and Validity
Technical Datasheet
100,0 g of product contain:
Benzalkonium Chloride 10.0 g; O-phenylphenol 1.0 g; non-ionic surfactants; depurated water q.s. to 100.0 g.
Contains: Benzyl Alcohol, Citral, Limonene.
To disinfect: pour 50 ml (5 measure caps) of the product in one liter of water and leave act for 15 minutes.
To cleanse: pour 10 ml (1 measure cap) of product into one liter of water.
Use the product only diluted.
Depending on the need, apply with hand or mechanical pumps, sponges, triggers or lance-foam.
1000 ml Bottle – Box containing 12 Bottles
5000 ml Canister – Box containing 4 Canisters
5 years.
The indicated period of validity refers to the product properly stored in its container and correctly used.
Store in a cool, dry place, away from heat sources.