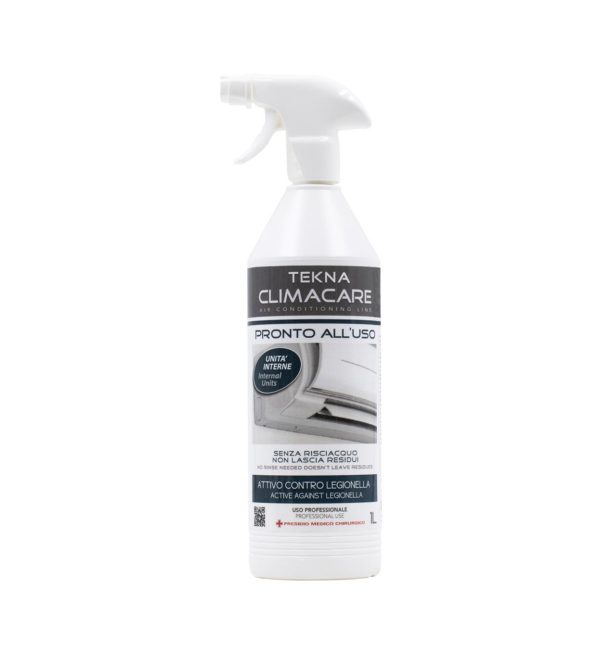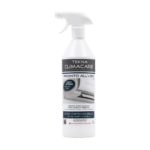 Tekna Climacare Pronto all'Uso
Ready to use disinfectant cleanser.
Climacare Pronto all'uso is registered by the Italian Ministry of Health.
CLIMACARE PRONTO ALL'USO is an active cleanser/disinfectant active on Gram-positive and Gram-negative bacteria (included Legionella), fungi and molds.
The trigger has a dual function: to make the use of the product easier, it is possible to choose the foam function or the liquid one according to the area to disinfect.
It does not require to rinse, it does not leave residues or halos and has a pleasant fragrance.
It can be used on all internal and external parts of the split / heat pump.
Composition
Instructions for Use
Packaging
Product ID
How to Storage and Validity
Technical Datasheet
100,0 g of product contain:
Benzalkonium chloride 2.0 g; solubilized essential oils; Isothiazolinone chloride; non-ionic surfactants; coformulants; depurated water q.s.to 100.0 g.
To disinfect: distribute the product evenly covering the area to be treated.
Keep in contact with the product for at least 15 minutes in order to eliminate bacteria and fungi.
For daily cleansing: evenly dispense the product on the surfaces to be treated and distribute with a cloth or paper.
It does not require rinsing.
1000 ml Bottle with trigger – Box containing 12 Bottles