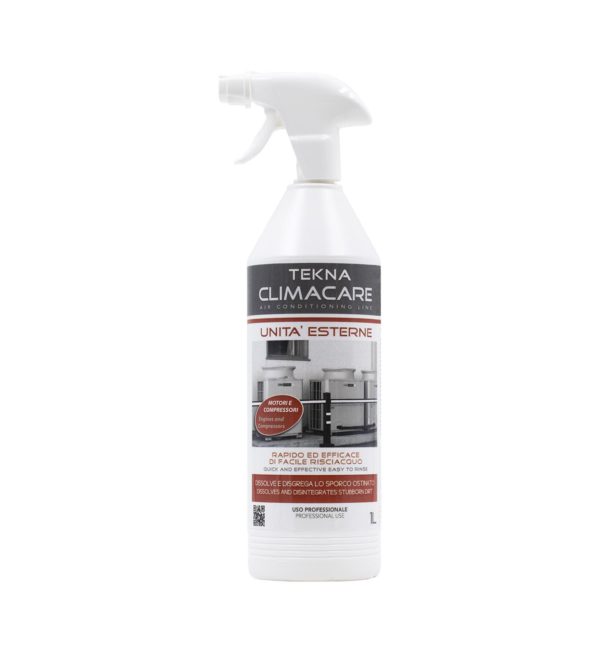 Tekna Climacare Unità Esterne
Ready to use very concentrated cleanser spray.
CLIMACARE UNITA' ESTERNE dissolves and disintegrates all types of dirt.
Quick, effective and easy to rinse it is a highly concentrated cleanser suitable for cleaning grates, motors and air condensers.
Dirt, smog and pollution, kept inside and outside the external housing, can compromise the functioning of the system if not properly cleaned and maintained; it can be used also on plastic and mechanical parts.
The super degreasing formulation, particularly effective on stubborn dirt, rinses easily and leaves no residue or streaks; its delicate fragrance makes the use of the product particularly comfortable.
It is biodegradable and is not toxic to the aquatic flora.
Composition
Instructions for Use
Packaging
Product ID
How to Storage and Validity
Technical Datasheet
Chemical composition (Reg. 648/2004 / CE): <5% anionic surfactants, non-ionic surfactants, soap, phosphates.
Other components: parfum (Limonene, Hexyl cinnamal), preservative (Benzisothiazolinone).
Spray the product on the surface to be cleaned in order to wet the surface to be treated, pass a cloth, then rinse with running water.
In the event of stubborn dirt, leave to act for a few minutes before rubbing and rinsing with running water.
If in doubt about the material, try the product on a small area before use.
1000 ml Bottle with trigger – Box containing 12 Bottles
5 years.
The indicated period of validity refers to the product properly stored in its container and correctly used.
Store in a cool, dry place, away from heat sources.