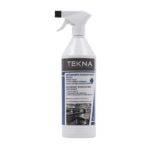 Tekna Detergente Disinfettante Anticalcare
Anti-limescale detergent disinfectant for bathroom and kitchen.
Detergente Disinfettante Anticalcare is registered by the Italian Ministry of Health.
Detergente Disinfettante anticalcare della Linea Tekna is a product suitable for the HACCP (Hazard Analysis and Critical Control Points) self-control plan.
DETERGENTE DISINFETTANTE ANTICALCARE of TEKNA LINE is the ideal product for cleansing and disinfection of bathroom and kitchen surfaces: it acts effectively against stubborn dirt, limescale, rust and soap residues without the need to rub, ensuring a rapid cleansing of all surfaces hard: taps, sinks, tiles, steel, ceramic, porcelain, sanitary ware, showers, etc.
Its particular formulation, enriched by a component with a filming effect, makes the surfaces smooth and shiny because it prevents from water depositing limescale and further dirt.
The special foamer has a dual function: it allows a targeted action to reach difficult points or vertical surfaces; it avoids unnecessary product waste allowing savings in terms of quantities and costs.
Composition
Instructions for Use
Packaging
Product ID
How to Storage and Validity
Technical Datasheet
100.0 g of product contain:
Benzalkonium chloride 0.50 g; Biphenyl-2-ol 0.02 g; coformulants; depurated water q.s. to 100.0 g.
The product is used pure.
Spray with the appropriate vaporizer, taking care to wet the surface completely.
Rinse thoroughly.
For daily cleansing: it does not require shutter speed.
To disinfect: leave act for at least 15 minutes.
Before using the product on a large surface, test on a small area.
It is recommended not to disinfect the surfaces every day but to prefer the action of daily cleansing.
1000 ml Bottle with trigger – Box containing 12 Bottles
3 years.
The indicated period of validity refers to the product properly stored in its container and correctly used.
Store in a cool, dry place, away from heat sources.