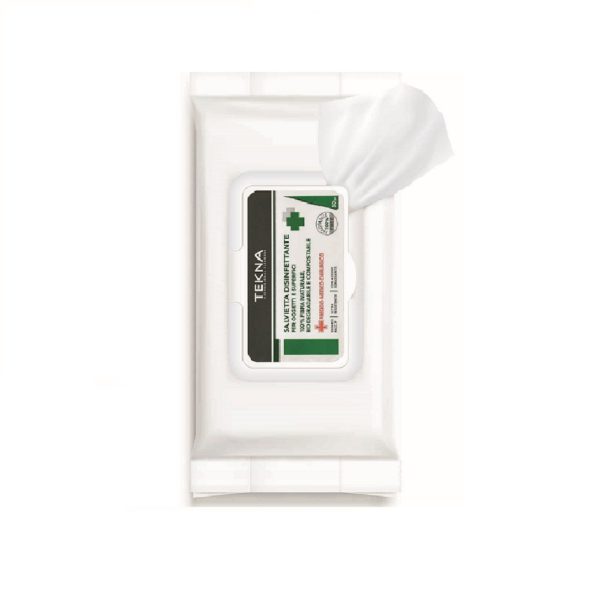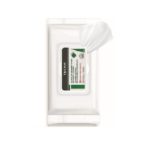 Tekna Salvietta Disinfettante per Oggetti e Superfici
Ready to use disinfectant wipes with Chlorhexidine, Benzalkonium and Alcohol with a deep action.
Tekna Salvietta Disinfettante per Oggetti e Superfici is registered by the Italian Ministry of Health.
SALVIETTE DISINFETTANTI of TEKNA LINE are designed to cleanse and disinfect simultaneously objects and surfaces eliminating germs and bacteria and ensuring a deep disinfection of all washable surfaces, with an excellent detergent and degreasing action thanks to Chlorhexidine, Benzalkonium and Alcohol.
They do not contain parfum, colorants and whitening agents.
Composition
Instructions for Use
Packaging
Product ID
How to Storage and Validity
Technical Datasheet
100.0 g of imbibed solution of DISINFETTANTE ALCOLICO contain:
Chlorhexidine Digluconate 0.1 g; Benzalkonium chloride 0.1 g; Isopropyl alcohol; Ethyl alcohol; coformulants; depurated water q.s.to 100.0 g.
Ready-to-use wipes.
Rub objects and / or surfaces checking that they are completely moistened and leave act for 3 minutes, without rinsing.
The natural and absorbent fiber tissue allows a quick drying.
Flow pack with 50 wipes – Box containing 10 Flow packs
3 years.
The indicated period of validity refers to the product properly stored in its container and correctly used.
Store in a cool, dry place, away from heat sources.