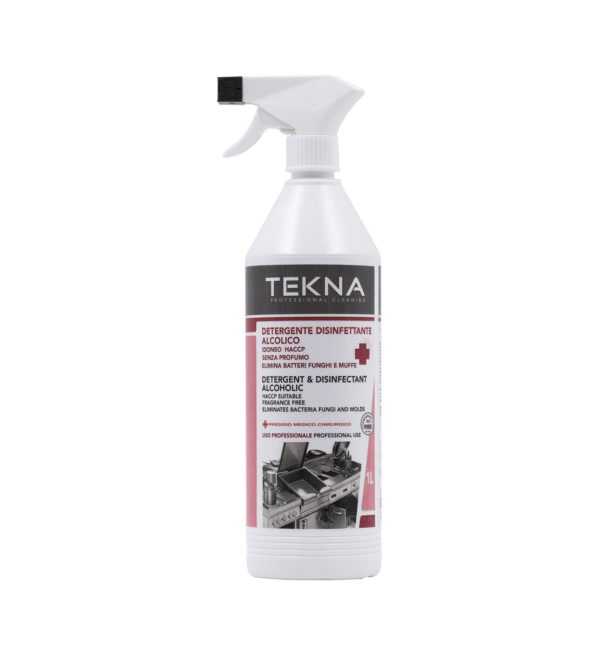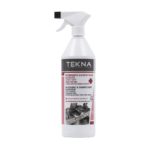 Tekna Disinfettante Alcolico
Hydroalcoholic disinfectant solution for professional use.
Tekna Disinfettante Alcolico is registered by the Italian Ministry of Health.
Tekna Disinfettante Alcolico is a product suitable for the HACCP (Hazard Analysis and Critical Control Points) self-control plan.
DETERGENTE DISINFETTANTE ALCOLICO of TEKNA LINE is a disinfectant containing Quaternary Ammonium Salts and Chlorhexidine active on fungi and bacteria, including Salmonella and Listeria.
It is a ready-to-use cleanser / disinfectant indicated for the rapid disinfection and cleansing of all surfaces such as table tops, machinery, conveyor belts, fillers, cutting tools (for example slicers), equipment and objects in the food sector and industry.
It is easy and practical to use, it evaporates quickly and consequently dries quickly.
It does not stain and does not leave halos.
This product is also effective for the elimination of fat residues and protein substances and allows to clean and disinfect simultaneously any type of surfaces.
It does not contain perfumes.
Composition
Instructions for Use
Packaging
Product ID
How to Storage and Validity
Technical Datasheet
100.0 g of product contain:
Chlorhexidine digluconate 0.1 g; Benzalkonium chloride 0.1 g; Isopropyl alcohol; Ethyl alcohol; coformulants; depurated water q.s. to 100.0 g.
Shake before using.
Spray the objects and surfaces to be disinfected from a distance of about 30 cm until everything is completely moistened.
Leave act for 3 minutes and then wipe with a cloth.
1000 ml Bottle with trigger – Box containing 12 Bottles
3 years.
The indicated period of validity refers to the product properly stored in its container and correctly used.
Store in a cool, dry place, away from heat sources.