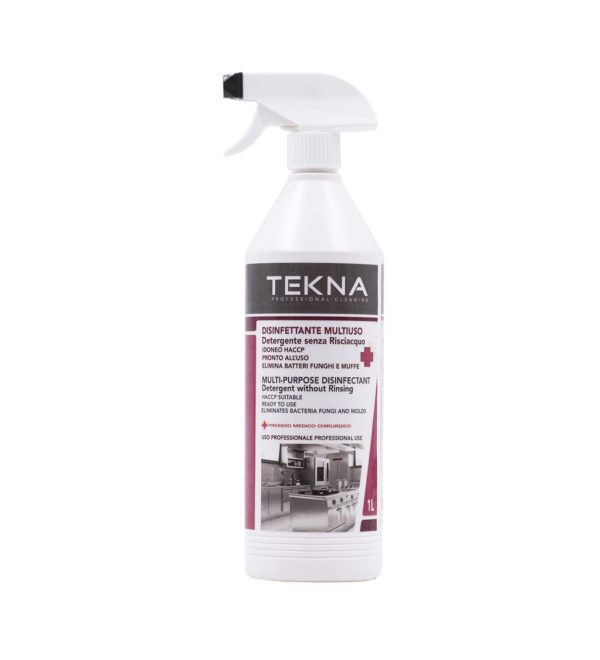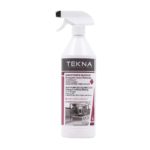 Tekna Disinfettante Multiuso
Cleanser, disinfectant, degreaser, deodorant ready to use.
Tekna Disinfettante Multiuso is registered by the Italian Ministry of Health.
DISINFETTANTE MULTIUSO DETERGENTE SENZA RISCIACQUO of TEKNA LINE is a ready-to-use product that quickly disinfects, degreases, cleans and deodorizes objects and any surface without damaging the materials or leaving halos, eliminating bacteria and fungi.
The product being equipped with a practical dual-use trigger that delivers a soft foam and thus associates the disinfectant and cleansing action with the deodorant, neutralizing bad odors in the bud.
Composition
Instructions for Use
Packaging
Product ID
How to Storage and Validity
Technical Datasheet
100.0 g of product contain:
Quaternary Ammonium Salt 0.50 g; O-phenylphenol 0.02 g; coformulants and depurated water q.s. to 100.0 g.
To disinfect: distribute the product evenly covering the area to be disinfected.
The objects must be kept in contact with the product for at least 15 minutes in order to eliminate bacteria and fungi.
For daily cleansing: evenly distribute the product on the surfaces / objects to be treated and distribute with a cloth or paper.
In case of surfaces / objects that come into direct contact with food: rinse with plenty of drinking water.
1000 ml Bottle with trigger – Box containing 12 Bottles
5 years.
The indicated period of validity refers to the product properly stored in its container and correctly used.
Store in a cool, dry place, away from heat sources.