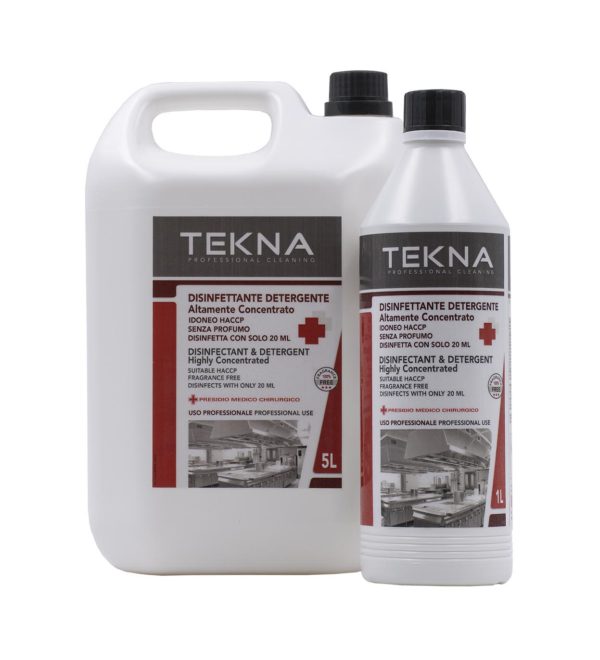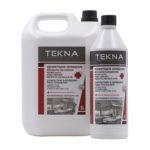 Tekna Disinfettante Detergente Altamente Concentrato
High concentrated disinfectant cleanser suitable for Haccp control plan.
Tekna Disinfettante Detergente Altamente Concentrato is registered by the Italian Ministry of Health.
DISINFETTANTE DETERGENTE ALTAMENTE CONCENTRATO of TEKNA LINE is a product for the disinfection and cleansing of all surfaces; it can be used diluted even in the presence of organic material.
Formulated to clean and disinfect tools, equipment that come in contact with food, worktops, toilets, floors and tiled surfaces.
Very useful for dipping machinery components or small accessories to be disinfected; it can be used with pressure systems or foam production for large surfaces.
Practical, economic and performing.
Composition
Instructions for Use
Packaging
Product ID
How to Storage and Validity
Technical Datasheet
100.0 g of product contain:
Didecyl-dimethyl ammonium chloride 10.0 g; coformulants, depurated water q.s. to 100.0 g.
To disinfect surfaces and objects: dilute to 2% (20 ml of product in 1 liter of water).
To disinfect with automatic washing systems and sprayers: use diluted in relation to the indicated doses. The regular addition of the product to water and detergents helps to keep them sanitized.
1000 ml Bottle – Box containing 12 Bottles
5000 ml Canister – Box containing 4 Canisters
5 years.
The indicated period of validity refers to the product properly stored in its container and correctly used.
Store in a cool, dry place, away from heat sources.