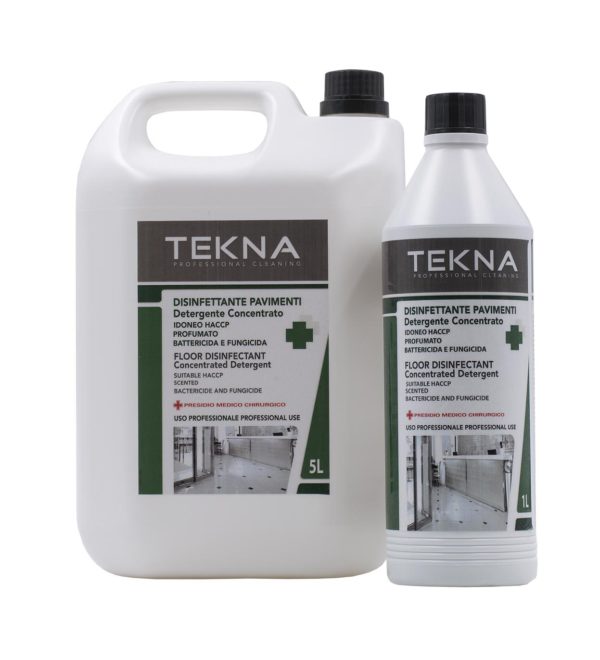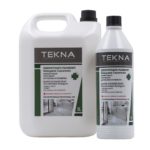 Tekna Disinfettante Concentrato Pavimenti
Parfumed cleanser disinfectant for floors and environments.
Tekna Disinfettante Concentrato Pavimenti is registered by the Italian Ministry of Health.
DETERGENTE DISINFETTANTE CONCENTRATO PAVIMENTI of TEKNA LINE is a concentrated product that thanks to its active ingredients, quickly disinfects and cleans floors and environments leaving a pleasant clean scent.
It has a broad spectrum of action; with only 50 ml in a liter of water it eliminates bacteria, fungi and allergens (most products on the market must be used pure or with much higher concentrations) and is also an excellent detergent for daily cleaning, with only 20 ml it eliminates all traces of dirt without leaving halos and it does not require rinse.
A single product to alternate cleansing and disinfection based on the dose of use.
Composition
Instructions for Use
Packaging
Product ID
How to Storage and Validity
Technical Datasheet
100.0 g of product contain:
Benzalkonium chloride 2.0 g; Biphenyl-2-ol 0.1 g; coformulants; depurated water q.s. to 100.0 g.
The product has to be diluted in water before use.
For the disinfection of floors, surfaces and toilets: dilute 50 ml in 1 liter of water.
Leave act for 5 minutes.
For cleansing of floors, surfaces and toilets: dilute 20 ml in 1 liter of water.
It does not produce foam and does not leave sticky residues.
It does not require rinsing.
1000 ml Bottle – Box containing 12 Bottles
5000 ml Canister – Box containing 4 Canisters
3 years.
The indicated period of validity refers to the product properly stored in its container and correctly used.
Store in a cool, dry place, away from heat sources.