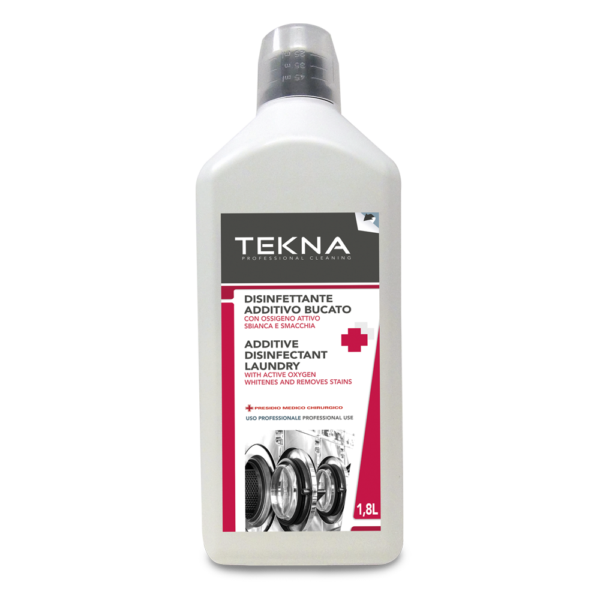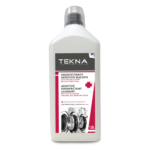 Tekna Disinfettante Oxy Additivo Bucato con Ossigeno Attivo
It disinfects, eliminates stains, whitens and eliminates bad smells.
DISINFETTANTE OXY is a liquid additive based on active oxygen indicated to remove stains from white and colored fabrics. It acts against stains and germs eliminating up to 99,9% of bacteria.
It also counteracts the organic fermentations that produce bad smells. It respects every kind of tissues: shhets, tableclothes, bath towels, curtains, but also aprons and service uniforms. etc..
Composition
Instructions for Use
Packaging
Product ID
How to Storage and Validity
Technical Datasheet
100.0 g of DISINFETTANTE OXY contains:
Hydrogen peroxide 11,0 g; Alkyl-benzyl-dimethyl ammonium chloride 1,7 g; parfum; coformulants; depurated water q.s. to 100,0 g. Contains: Benzyl salicylate,Hexyl cinnamal.
DISINFECTANT:
in the washing machine: add 100 ml of product into the prewash compartment and run a 30 minutes prewash cycle, then proceed with the normal washing cycle with detergent.
By hand: add 50 ml of product to 4 liters of water. Soak for 30 minutes. Proceed with the normal washing by adding the detergent and rinse.
WHITENING:
add about 100 ml of product to the detergent and proceed with the normal washing cycle. In the case of stubborn stains, pour about 2 ml on the stain, rub, leave act for 5 minutes and proceed with the normal washing in the washing machine. For delicate tissues or if in doubt, try the product first on a small piece of tissue.
Bottle of 1800 ml – Box with 6 bottles
Store in a cool, dry place, away from heat sources.